r(E)volutionary Woman:
a podcast by and about women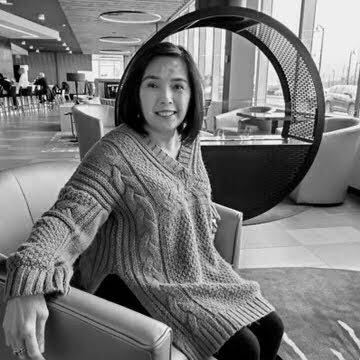 Tes is a long-time blogger and foodie. For the past 10 years, she's focused her blog and work around women's issues. This is her long-form interview podcast. She's lined up women activists and volunteers from around the world to tell their stories and the stories of the women they work with.
Today, Tes speaks with Chef Liz Thompson. Liz, a native New Yorker, started her first career in Advertising and Product Management after receiving her MBA in Marketing and Finance from Fordham University before she switched gears and attended the French Culinary Institute to become a pastry chef which has been her career path for the last 25 years. She worked in restaurants in New York for a few years before moving to Los Angeles to do an internship with Michelle Richard at restaurant Citrus.
After that, Liz did a quick stint with Food & Wines from France doing wine and food pairings, worked at Tryst Restaurant then moved to Checkers Hotel, a 5-star hotel, as pastry chef, for 5 years. She then went out on her own and opened "The Pig, Memphis Style BBQ" in West L.A. and Universal City Walk as co-owner which received accolades in The New York Times, Newsweek, Bon Appetit, Gourmet and was named "Best BBQ in Los Angeles" by Los Angeles Magazine 3 years in a row.
Liz then taught pastry and restaurant management at The Art Institute of California for 4 years
before moving on to Recipe Formulation and New Product Development, which has become her
passion. She loves to hyper focus on one ingredient and create countless different recipes
which allows her head to spin out creatively which is another area of her expertise.
Baking with Herbs
Liz is passionate about Baking with the natural flavor of fresh herbs from her garden which creates a unique taste experience. She takes any of her recipes, be it pastry or custards and infuses them through sugars, dairy and simple syrups to even make cocktails.
Imagine going into your garden and grabbing a handful of fresh basil, lemongrass, lavender and
even rose petals to transform your already fabulous crème brulee, into something even more
fabulous. The same goes for ice cream, cookies, chocolates and of course cocktails. How about
a Rose Petal and Lime Cosmopolitan in a glass rimmed with Rose Sugar?
Dive into the world of Baking with Herbs with us that has been in existence going back 2000
years ago to the Spice Trade when herbs were more valuable than gold. You will learn which
ingredient in to infuse depending on recipe, be it heavy cream, sugar or butter and the
differences in the methods of doing so.
We will create the following simple recipes that will awaken both your sense of taste and smell!
To learn more about Chef Liz Thompson:
IG: Realdesserts
FB: Chef Liz Thompson
Website: https://www.lizthompsonmarketing.com/
Read More »