r(E)volutionary Woman:
a podcast by and about women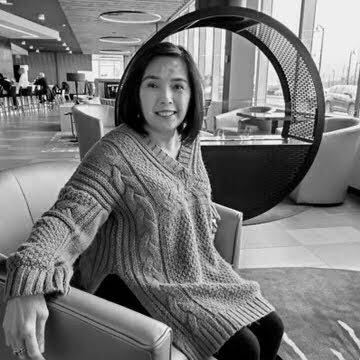 Tes is a long-time blogger and foodie. For the past 10 years, she's focused her blog and work around women's issues. This is her long-form interview podcast. She's lined up women activists and volunteers from around the world to tell their stories and the stories of the women they work with.
Today, Tes talks with Melissa DuPrey. Melissa is a multidisciplinary artist with roots from Humboldt Park, Chicago. After earning double Bachelor degrees from the University of Houston, she returned to Chicago to join the all-Latina theatre company, Teatro Luna. Her one-woman show, SEXomedy (2012), was developed during their monthly series for women of color in the arts and received a Chicago Reader Recommendation, a Member's Pick, and had a successful debut Off-Broadway in New York. The popular show spurred a progressive sequel, SEXomedy 2.0, which debuted at Steppenwolf Theater in April 2019. Her second solo show, SUSHI-frito, has also been critically acclaimed as part of MPAACT's Signature Series for solo artists. In 2014, she was selected as a new talent in the ABC Diversity Showcase in New York City. DuPrey is also a community organizer and spiritualist who also launched The Good Grief Project- an extension of the social justice component from her play GOOD GRIEF, where communities of color are connected to local, accessible and multidisciplinary mental and spiritual wellness practitioners of color. Her full-length play BRUJAJA was selected as part of 16th Street's New Play Pop Up Reading Series for 2019 and is slated for a world premiere in 2021 with UrbanTheater Company. She has performed stand-up comedy in Chicago, New York, New Jersey, Philadelphia, and Los Angeles. She is a featured actor in the Emmy-nominated web-series Brown Girls and has many regional and non regional theater credits in Chicago. She can currently be seen as DR. SARA ORTIZ on "Grey's Anatomy" (Season 17 and 18). Other TV credits include a recurring appearance on "Empire" (FOX), and guest appearances on "The Resident" (FOX), "Chicago PD" (NBC), and "The Chi" (Showtime). Film credits include: Relative (2022), Long Division (2022), Cherry (2020), Two in the Bush (2017), The Way We Speak (2014) and Bromance (2014). As a musician and active member of her community, she is dedicated to the preservation of Puerto Rican culture by way of the folkloric music, Bomba y Plena, with Africaribe and Las BomPleneras. She is currently an Ensemble Member at UrbanTheater Company and Artistic Associate at Sideshow Theater.
To learn more about Melissa DuPrey:
Website: www.melissaduprey.com
Twitter & IG: @BoomBoomDuPrey
News links:
Chicago Sun Times coverage for Grey's Anatomy
Review of Good Grief- A healing experience
Please and Resistance in the face of Patriarchy
Coverage of The Chicago Women's March and critique of lack of inclusivity
Centering Black and Brown Narratives in Chicago as ED of Social Justice Theater
Read More »